Description
How to be BIG on Customer Service
With increasing competition and shrinking markets you must be in top gear to make sales targets even in good years, but when the going gets tough, you've got to work even smarter. This program shows you how!
In this audio program you'll find out how your team can create and capitalise on lifetime relationships that will ensure your business thrives against competition day-after-day, year-after-year. Now you can find out how you can create more sales, more profits and more delighted customers by making customer service part of "the way we do things around here" using real world techniques that work!
You'll discover how to create the systems and checklists that will ensure your business delivers world class customer service over and over as part of your culture. You will discover:
The 5 steps to great customer service
How to get customer service absolutely organised
The incredible lifetime value of a customer
How to create a quality customer care program
How to make customers say "WOW!"
The secrets to getting customers to come back
The incredible loyalty ladder
How to use checklists and scripts for repeatable delivery
The incredible 2x2x2 formula
Turning satisfied customers into evangelists
How to build the power of rapport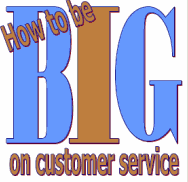 How to sell BIG! … even in tough years
With increasing competition and shrinking markets you must be in top gear to make sales targets even in good years and when the going gets tough, you've got to work even smarter.  This program from Winston Marsh and Doug Malouf shows you how!
This exciting program will guarantee you great sales… year after year after year!
Learn from the experts
In this rare opportunity these two sales experts get together to share amazingly simple ideas that will boost your sales to incredible levels.  You'll find out how to:
Create a cold call script to get you in front of almost anyone.
Produce a list of powerful things to say to intrigue people enough that they will kill to hear more.
Create a sales letter that will get your prospects itching to see you.
Produce a template for an after sales service card that's guaranteed to maximize customer satisfaction.
Create a sales track to upsell even your toughest customer.
Produce three remarkable letters that turn cold suspects into warm, willing prospects.
Create a script of the sure fire, works-every-time answer for the "that's expensive" put down.
Produce a check list of 26 fantastic ways to abolish cold calling forever.
Create a lead generating advertisement that works like crazy… every time.
Brilliant ideas to put into practice immediately.  These are real life solutions to real life situations that will boost your sales dramatically.  You will discover how to:
Get absolutely organized to produce huge results.
Invest 15 minutes a day to make your sales and profits soar by up to 200%.
Use target marketing to hit your profit bullseye.
What the super sellers are doing to save time.
Guarantee success by giving customers these four things every time.
Make people feel good when they spend money with you.
Delight your customers by becoming an after sales service legend.
The secrets of an easy telephone call to make business zoom by 50% or more.
Turn your customers into walking, talking, public relations evangelists for you and your business.
The five things that most sales people do wrong.. and don't even know they are doing.
 Doug Malouf CSP
Learnt selling out of necessity and turned it into a lifestyle.  A kid from the bush, he went into the real estate business and built his chain of super successful real estate agencies.  And to do so he devised a fantastically successful sales process.  A process that turned ordinary people into sales champions.  Its success didn't go unnoticed, and it wasn't long before he was asked to share his secrets with other agencies and other businesses.
Since then he has become one of a handful of Australians to have delivered keynote addresses to the giant industry and association conventions in the USA.  As well as his speaking (for which he has been accredited as a Certified Speaking Professional, the highest international industry award), he has published a number of runaway bestseller books, audio and video learning programs.
Winston Marsh CSP
"Mr Wow" has a colossal track record of creating innovative, successful sales techniques and profitable solutions for a wide range of businesses and industries.  Every year he presents easily listenable and readily actionable messages to around 200 conferences and conventions.
And the results he helps people achieve are legendary.  It doesn't matter whether it's a giant public company or a one-person small business, the ideas and techniques he so passionately delivers work for either.
Winston has been President of the National Speakers Association of Australia multiple times and a successful business man. Like Doug, he has been accredited as a Certified Speaking Professional, one of only a handful of speakers in Australia.